F/V ERICA LEE Celebrating 33 years of fishing
Jeffreys Ledge for cod and haddock

Deep-Sea fishing for private charters of up to 16 anglers
Located at Hilton's Marina
54R Merrimac St.
Newburyport, MA 01950
978-463-2233
Kate@boatcamp.org

2013 Rate...... $1400
All-day deep-sea trips
7 a.m. to 4 p.m.

Half-day in-shore trips
(mackerel, bass/blues,
flounder, or sunset cruises)
3-hour minimum at $175 hour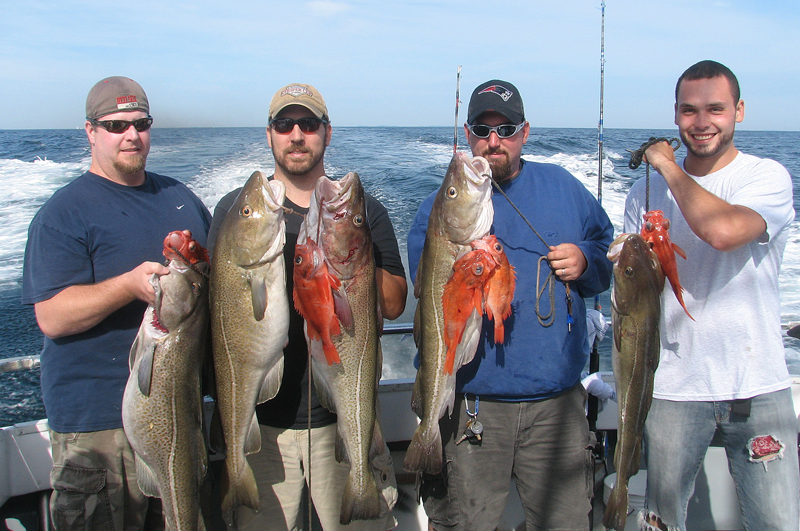 The ERICA LEE is available for nine-hour deep sea fishing trips to Jeffreys Ledge, May to October, for up to 16 anglers. We leave the dock early in the morning, usually at 7 a.m. (Earlier departures may be arranged.) The $1400 fee for the 2013 season reserves the whole boat. We will provide rods, bait and tackle, and fish cleaning. Gratuity of 15-20% for the mates appreciated. A $500 depositis required within two weeks of making a reservation. You bring your own food and beverages. (Alcohol allowed in moderation.) We also recommend you bring rubber boots, rain pants, sunscreen, sunglasses... and a camera!

Cancellations may be made up to 30 days before trip is scheduled for full refund of deposit. Cancellations within 30 days of the trip may be refunded only if the spot is filled by another party. Cancellations on day of trip, due to weather, sea conditions, or mechanical breakdowns are at captain's discretion and may be refunded in part or in whole if an alternate date is not selected. If trip is cancelled while underway, the fee is $175 an hour once from the time the boat has left the dock until it returns to the dock.

The Erica Lee is owned and operated by Capt. Rob Yeomans. Capt. Rob has worked aboard the Erica Lee for 33 years, 22 of those as captain. He holds a 100-ton U.S. Coast Guard captain's license, and has decades of experience fishing for a variety of New England species in the Gulf of Maine. Rob has been the owner/operator of the Erica Lee since 2005. When not at sea, Rob teaches Anatomy & Physiology, Biology, and Marine Biology at Newburyport High School, where he chairs the science department. He taught biology at Lynn Classical High School from 1996 to 2005. He earned a BA Biology (1996) and a MA in Teaching Biology from Salem State (2000). Action research grants have taken him to Monterey, CA to fish for giant humboldt squid, to Tahiti to sail aboard a training schooner on an oceanographic research expedition, and to the Maine wilderness to learn wildlife tracking. During summer, Capt. Rob and the Erica Lee spend most of their days together with kids learning about the sea as part of BOAT CAMP Nature School's primary floating classroom. You can read more about that here.